Information
Mentoring sessions for SMEs
Mentoring sessions for SMEs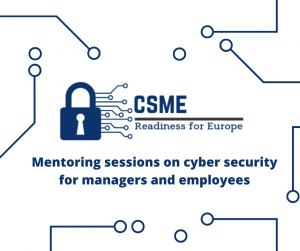 Mentoring sessions are individual (mentor-company) and are intended for all micro and small companies that are interested in being led by a mentor-expert in cyber security, in the process of implementing measures to reduce the cyber risks of their company.
They last about two hours and are realized by mentors who are experienced professionals with many years of experience in the field of cyber security and protection.
What does mentoring involve?
– Interpretation and explanation of your Risk Assessment REPORT identifying the key risks facing your company and the PLAN / recommendations to deal with them.
– Assistance in implementing measures to reduce your company's cyber risks
WHAT DID THE PARTCIPANTS SAY ABOUT THE MENTORING SESSIONS…
"It is a fact that with the development of the information society come many challenges and cyber risks. Dealing with those risks is a complex problem for the companies, which are becoming increasingly aware that cyber risks need to be detected in a timely manner and find measures to manage them. The mentoring session offered by the project is an excellent opportunity for micro and small enterprises to acquire knowledge and skills for recognizing cyber risks in their work, and through analysis to create measures for protection against risks and dealing with challenges." – Marina from the company Toseski – IZ Sonja Toseska, Prilep
"Thank you very much for the opportunity to learn something new. Last week we saw the videos and I made a small presentation to my team, to capture once again the important things we need to change to strengthen our security. At the mentoring session I received some guidelines and recommendations that I have not used until now. Very interesting were the "tricks" on how to make a strong password, but to be easy to remember, and also the directions how often/what we need to change. Although computers are great tools, we must not forget that the most vulnerable link in this whole system is the people, who must constantly learn and develop, and remember that the cyber security depends on their working attitude. We look forward to apply the knowledge and to see you on another occasion. "- Teodora from the company Astibo Fashion Group, Stip
"This was a great session to improve my knowledge of how my company to be safe online. The mentor explained our cyber risks but also suggested measures that we need to implement to reduce them. I recommended the Cyber Security Quiz and the training modules to my colleagues – they are great! "- Baze from the company "Kontura", Skopje
"I was afraid of how we would deal with the risks when we opened our online store, what influence they would have in our operations. On social media I saw an announcement that the association Readiness for Europe through its project offers the opportunity to fill in a simple questionnaire to identify the cyber risks but also to get a plan for dealing with them. I even had the choice to apply for a mentoring session with a cyber expert. The session exceeded my expectations, the expert helped me a lot. Now I am sure that the measures I started to take, suggested by the expert, will reduce my cyber risks of my company. Thanks to the team and the cyber expert "- Dejanka from the company" Storybooks and Toys ", Skopje
"I was afraid of how we would deal with the risks when we opened our online store, what influence they would have in our operations. On social media I saw an announcement that the association Readiness for Europe through its project offers the opportunity to fill in a simple questionnaire to identify the cyber risks but also to get a plan for dealing with them. I even had the choice to apply for a mentoring session with a cyber expert. The session exceeded my expectations, the expert helped me a lot. Now I am sure that the measures I started to take, suggested by the expert, will reduce my cyber risks of my company. Thanks to the team and the cyber expert"- Dejanka from the company Storybooks and Toys, Skopje
"We are not a big company, but now I know that even as small business, we are also exposed to risks when working online. I will share the experience I gained at the mentoring session with my colleagues. And we will take the measures pointed out to me by the cyber expert as soon as possible. It is good that the website of the association has information on this topic, so whenever I want I can find information and materials on cyber security "- Maja from the company Dermaestetika, Skopje